Why We Recycle and Why We Recycle Right
Recycling is all about making new products from old ones.
It's as much about economics as it is about the environment. For a material to get recycled into a new good it needs two things: a market that can use the material and a way to get that material from the consumer to the market.
Sounds simple, but ...
Clackamas County Master Recycler Summer Kickoff
Wednesday May 31st, 6:00 – 8:00
Clackamas County Development Services Building
150 Beavercreek Rd, Oregon City
Join the 2017 Clackamas County Master Recycler Summer Kickoff Event! Meet members of our newest class, Class 65! Learn what other Master Recyclers are up to Brush up on your skills
Sign up for summer events or jumpstart a project with another Master Recycler!
And did we mention food? We'll have salad, wraps (with a vegetarian option), and sides.
Networking and Food 6:00-6:30
Refresher and Presentation of Summer Opportunities 6:30-7:30
More networking 7:30-8:00
PLEASE RSVP: http://evite.me/dneCSQCG5a
First 20 Master Recyclers to RSVP get a reusable produce bag when they arrive, and we'll also have a door prize of a produce saving container!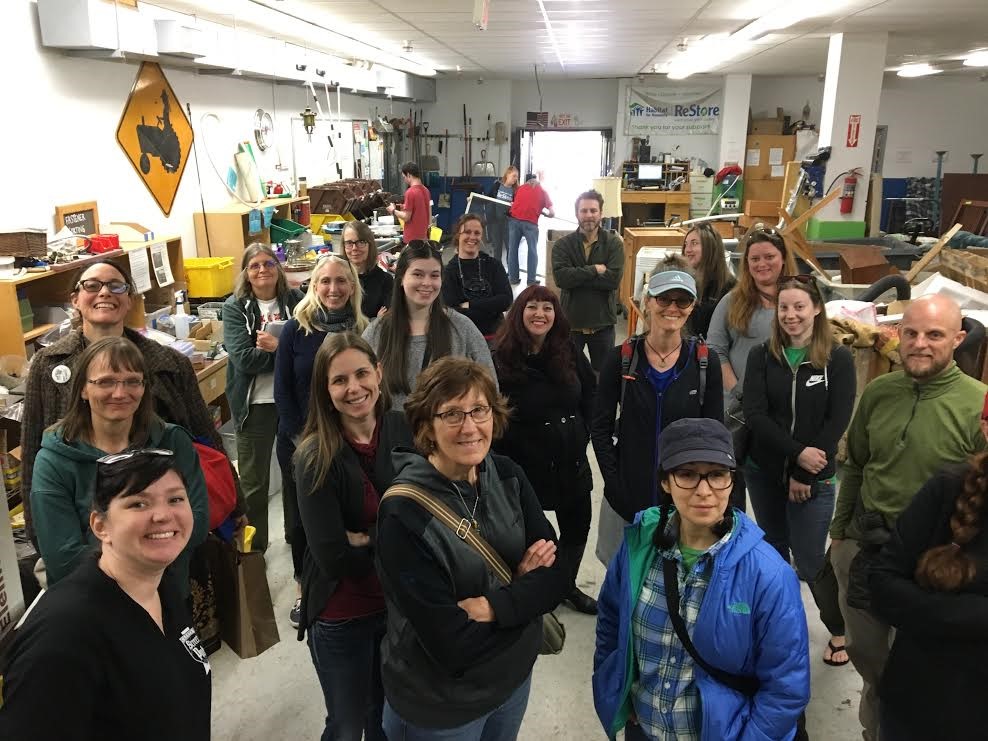 Join Master Recyclers of Color group (MRoC)
MRoC had their first gathering in May! The group shared their accomplishments and ideas and decided that it is important to make room in the environmental movement for people of color and who better to do that than Master Recyclers??
MRoC invites fellow Master Recyclers who identify as a person of color to join the MRoC Facebook group. Chat about your ideas. Invite others to your join your project. Share pictures of activities in the community or relevant events and news. MROC aims to have another social gathering in August to celebrate summer accomplishments. To connect with the group and receive emails about gatherings and plans, please email Janine Gates Setagjn@gmail.com
Appreciations
We have one Centurion and four new Certified Master Recyclers to celebrate this month!
Kim Reid (Class 58) is now a Centurion Master Recycler! Kim spent 100 hours dedicated to engaging the community on Reduce, Reuse, Recycle. She helped organize recycling and reuse at her NE Portland neighborhood cleanup for several years in a row. She improved recycling at First Unitarian Church. She staffed information booths about food waste, salvage material, reuse, fixing and maintaining and recycling. And as pictured on the left, she helped Sunday Parkways with a pilot project to include compost and recycling. Thank you Kim. You are a real steward for our planet!
Meredith Rizzari (Class 62) spent many lovely afternoons chatting with residents about recycling, food waste prevention and climate at the Montavilla, Oregon City and PSU Farmers' Markets. She also helped with recycling at Jade Night Market and her work at Willamette View. She wrapped her 30-hour commitment at the Clackamas Spring Garden Fair.
Andrea Danehower (Class 63) focused her volunteer hours entirely on the Reuse and Reduce part. She promoted salvage options through the Rebuilding Center at home and garden shows, Resourceful PDX at the St John's Bizarre and food waste prevention at several locations including the Latino Festival.
Lori Gates (Class 63) has been busy promoting recycling all over the region. She staffed booths in North and Northeast Portland, joined classmate Eva Aguilar at Centro Cultural's Día de los Niños, and then settled in to regularly staffing the dynamic "waste center" at the Forest Grove Farmer's market.
Janine Gates (Class 64) has such big ideas, she completed her 30 volunteer hours just gearing up for her projects! Janine joined the new City of Portland Employee Citywide Green Team which had its first event last month. She is also a core member of the Sunday Parkways green team planning recycling and composting at these massive events all summer long. Janine joined her classmate Leesha Posey to start a new Master Recycler of Color group (MRoC) which had its first meeting on 5/24. Janine's been working on a more personal project too. She is researching starting her own blog. It will be called Black Girls' Planet and will share her story and other black women and girls' stories about recycling and reuse.
We are just 350 hours from a record number of hours and a calendar full of ways to complete your hours!
Job Opportunities
Many great ways to get started in working in the field, including:
5 Americorps Solid waste and recycling positions in Gresham and Clark County
Ando en bicicletas en Cully Coordinator
Resource Recycling Magazine Business Manager
Multiple opportunities with Habitat for Humanity Restore
Conservation News
Hold on to your hardhats, we're about to open the largest Habitat ReStore in the Northwest!
With over 27,000 square feet of amazing home improvement deals, we're shouting from the rooftops: The Gresham Habitat for Humanity ReStore at 610 NE 181st Avenue is opening its doors Friday, June 16.
Grand Opening Gala: 6 p.m. to 8 p.m. Thursday, June 15
Ribbon Cutting Ceremony: 9:15 a.m., Friday, June 16
The ReStore's impact can be felt across the entire Metro area in 2016:
$1.2 million raised for Habitat
61,448 volunteer hours clocked by ReStore volunteers
12 million pounds of materials diverted from area landfills
40,151 donations from individuals and business partners